New Orleans Saints, Sean Payton wowed by Oregon State receiver Brandin Cooks from the start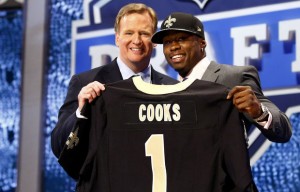 New Orleans Saints coach Sean Payton and general manager Mickey Loomis knew they wanted Oregon State wide receiver Brandin Cooks.
So they had no problem dealing their 2014 third-round pick (No. 91 overall) to the Arizona Cardinals to move up from No. 27 to No. 20 to grab him.
Cooks was one of three players the Saints were targeting before the Cardinals came on the clock in the first round Thursday night. As the highest player left on the Saints' board, he was the only one they were willing to move up to get.
"He was the one remaining player in that group that was someone we identified that we might trade up to get if we felt it was necessary," Payton said.
Payton said he knew the New York Jets needed a receiver, but they took safety Calvin Pryor, opening the door for a feasible trade to happen.
Payton repeatedly described Cooks as "tough," physically and mentally.
"He's been very consistent, very durable, obviously he runs well," Payton said. "I like his makeup in regards to his mental toughness."
The Saints were so sure of the pick, they didn't even bring Cooks in for one of their 30 allowed visits. His only visit was to the New York Jets.
Cooks' interview at the Scouting Combine in February, which Payton deemed "fantastic," was enough to answer any question the Saints might have had. Cooks is a perfect fit for the program, Payton said.
"It was pretty clear as to how he interviewed and how we felt about him."
That Combine interview in Indianapolis was the last time Cooks heard from the Saints. With their past history, that's no surprise.
Defensive lineman Akiem Hicks didn't have much contact with the Saints before they drafted him in 2012. Receiver Nick Toon hadn't heard from them, either.
So the Saints have a history of not checking up too much on players they're sure about. And Cooks knew when he walked out of the door during their only meeting that he just might have found his team.
"When I had a formal interview, I saw the expression on their face when I walked out the door and I had that vibe," he said. "I definitely felt that at the Combine, and hey, it happened."
In Cooks, the Saints get a speedy playmaker to flush out their wide receiver group. This is the third straight year they've selected a wide receiver. The Saints took Kenny Stills in the fifth round in 2013 and Toon in the fourth round in 2012.
Cooks is the first receiver they've selected in the first round since Robert Meachem in 2007.
But while Payton acknowledged wide receiver was a position of a need, a fast receiver wasn't necessarily the description of need.
The Saints' stance is to take the best player available on the board, regardless of need. But Cooks filled both, Payton said.
"I think we've got some guys that can run," Payton said. "I think Robert Meachem can run … Kenny Stills, Nick Toon. … We feel like we've got some team speed. This was more about the makeup of this player. …
"Obviously, he's a good football player, very confident, and Joe Morgan will be coming back off an injury (knee). This was really about a player that stood out."
The 2013 Biletnikoff Award winner led all receivers at the Combine with his 4.33-second 40-yard dash.
Cooks has 226 career receptions for 3,272 yards and 24 touchdowns, including 16 touchdowns in 2013. He had 32 carries for 217 rushing yards and two touchdowns in 2013.
Cooks could fill dual positions for the Saints, occupying the speedster role that mostly fell to Stills last year, and possibly replacing traded running back Darren Sproles as one of the team's primary kick returners.
In his final season at Oregon State, Cooks returned 12 punts for 72 yards. He hasn't returned kickoffs since 2011, when he had eight returns for 179 yards. Payton said Cooks will get an opportunity to try both.
"I'm excited about that. Coach Payton said I could be used in the slot and outside and possibly returning kicks," Cooks said. "That's my game! So I can't complain about that."
As for possibly of filling the role vacated by Sproles?
"I definitely know a lot about Darren Sproles," Cooks said. "We do have kind of the same skill set, but at the same time, obviously I'm a receiver. He was more in the backfield, catching screens. I'm going to be lined up out there … and that's the beauty of it."