Helena's Matt Miller signs contract with Denver Broncos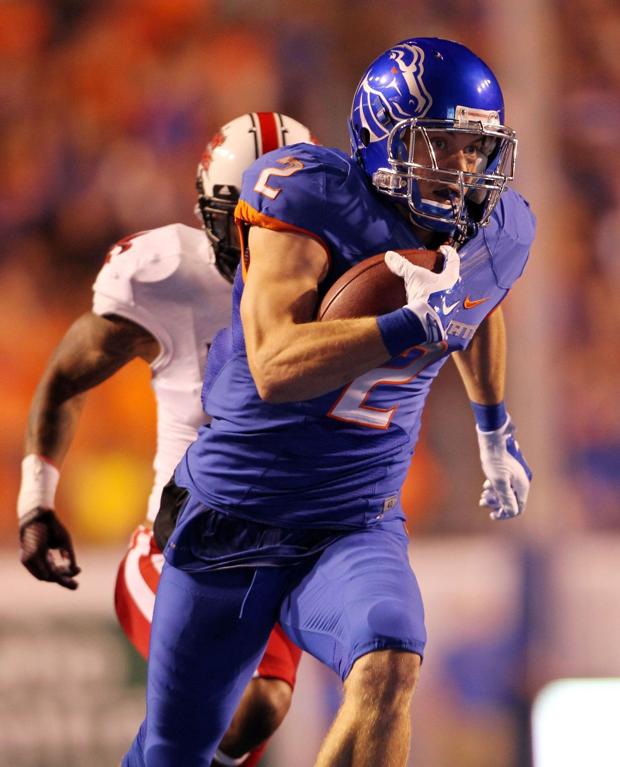 Five years ago, Matt Miller was catching passes at Vigilante Stadium.
Now, he'll be working for a chance to do the same at Mile High. Shortly after the NFL Draft concluded on Saturday, the Capital High grad signed an undrafted free agent contract with the Denver Broncos. And it didn't take long for him to get the news.
"It was maybe 15 minutes after the draft," Miller said. "We had just got done watching the Kentucky Derby when my agent called.
"I was really pleased when he told me that Denver was interested and that's where I was going. When he told me, 'You're gonna be a Bronco still,' I was really excited. I couldn't be happier."
Miller is now one of three former Capital High players to reach the NFL. Linebacker Greg Carothers, a three-year starter at the University of Washington, spent time in NFL, Europe and was in camps for the San Francisco 49ers, Arizona Cardinals and Buffalo Bills. Fellow linebacker Jason Crebo was a University of Montana standout and also made it to Buffalo's training camp. Buffalo, incidentally, is where former Helena High kicker Dan Carpenter landed two seasons ago after spending five seasons in Miami.
Longtime Capital coach Pat Murphy, who stepped down last season, was thrilled to see another Bruin take the next step.
"We were hoping to get him drafted last in that Mr. Irrelevant spot, because then you get a trip and everything," he said. "But a third of all NFL teams have undrafted free agents. We like his chances. We think he's gonna make it.
"He's such a humble, nice kid. Great family. I got a chance to watch him in three bowl games, so that was kind of cool to see. It was fun to see him play and compete. He had great character at Boise State, and I think he's gonna make in the NFL, too. He's got a great frame, great work ethic … with him, they can't go wrong."
The next few days will be a bit of a whirlwind for Miller, but one long-awaited. In four seasons at Boise State, the receiver collected a program-record 244 catches for 3,049 yards and 29 touchdowns. An ankle injury derailed his final season in Boise, leaving him 15 yards short of the school record in career receiving yards. His touchdown total is the third best in school history.
The injury came in Week 4 against Louisiana-Lafayette. Miller tried to play through the pain, but further aggravated the ankle a week later against Air Force. A high ankle sprain and torn ligaments let to an October surgery that kept Miller on the sideline for six months. And then it took a few more months to get back to anywhere near 100 percent strength and explosiveness.
During that time, the senior turned into a coach, helping younger players prepare for Saturdays. It was a difficult time in once sense, but one which Miller embraced and hopes will ultimately make him a better player.
"I think as a freshman, you handle that sort of injury different than you do as a fifth-year senior," he said. "Injuries are a part of the game. I saw a lot of injuries at Boise State, but was lucky to not have any real major injuries other than my Achilles freshman year and then the other ankle in my senior year. I dealt with it a lot better as a senior than I did as a freshman. I kind of took it in stride.
"I had to change my role; I had to shift into being a player-coach. I took it as a positive. You get to see the game from a different point of view and you see things a lot different from the sidelines and through watching film, when you're trying to analyze things. I think it helped me, overall, as a football player."
Miller, who leaves for Denver on Thursday, believes he is back to near pre-injury strength. He's got no pain in the ankle, and his doctor in Boise has been pleased with how everything has healed. Miller still wants to regain some explosiveness, but said that will return with time and repetition.
Time and repetition — two of the biggest reasons, in fact, Montana's 2009-10 Gatorade Player of the year is headed to the NFL.
"I went into college thinking that I might never play, coming from a small school in Montana to a football powerhouse that Boise State has started to become. But you just work as hard as you can and let the rest play out. I didn't really ever expect to be in the spot where I am today. But I give credit to having good support, a strong work ethic and just putting my head down. The rest, I guess, is history."
History, maybe. But there's plenty of future ahead, too. And Miller — who, in true Montana style spent time immediately after hearing his NFL dream had taken its next step working through evening chores on his girlfriend's ranch in the valley — is ready for the challenge.
"Right colors, right name, and, shoot, still pretty close to home," he said of the Broncos. "I'm really excited. to get out to Denver and start getting after it. I want to get some work in and work as hard as I can to make the team."