Everything You Need to Know to Target Nick Toon in 2015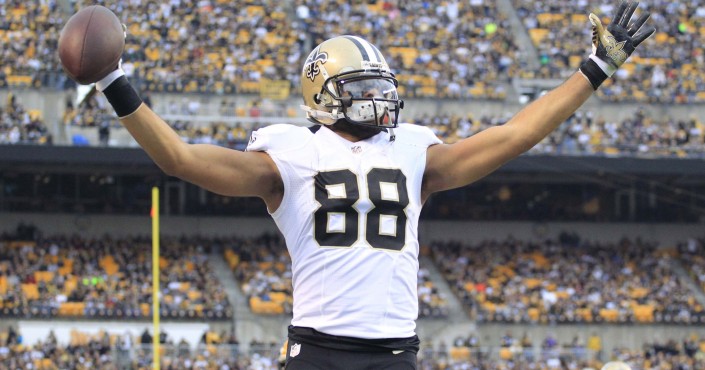 What if I told you that there was a player with zero competition to be the third wide receiver for his team? Someone who will be playing with a Hall of Fame level quarterback, on a historically great offense, and will be just one injury away from a primary role. He also has a successful NFL bloodline. Would you be interested in that player? Then why is nobody talking about Nick Toon?
What Would RotoViz Have Said About Toon in 2012?
Toon was actually a pretty decent prospect coming out of Wisconsin:
Nick Toon Comparables
We see some solid players on Toon's list of comparables. Dwayne Bowe is the most accomplished player on this list, with Cody Latimer and Donte Moncrief lurking as quality prospects yet to truly break out. Overall this isn't a terrible list for a fourth round draft pick, and I think it is fair to say that his measurables and production coming out of college would have at least made NFL success plausible.
Running Unopposed
As we've written about plenty here at RotoViz, the Saints made a lot of personnel changes to their passing game. Most notably, they traded away both Jimmy Graham and Kenny Stills, two of quarterback Drew Brees' top targets from a year ago. That leaves last year's first round pick Brandin Cooks and reliable veteran Marques Colston as the top two WRs in the Saints offense. However, the number three job looks to be very much up for grabs, with the contestants being Toon and a bunch of unproven talents in Joe Morgan, Jalen Saunders, Seantavius Jones, and Brandon Coleman. All of these players were undrafted with the exceptions of Saunders, who was already cut by the Jets despite being taken in round four of the 2014 draft, and Toon, who was a 4th round pick of the Saints in 2012.
Toon is also the only player to have any meaningful production with the team. Here's how he did last year in the last six games once Cooks went down:
Nick Toon 2014
His usage wasn't outlandish, but we have to remember that Colston, Stills, and Graham were all still active at the time. When he got his shot, Toon was effective in both yards per target and touchdown rate. He also caught a whopping 74 percent of the balls thrown his way. I think it is safe to say that Toon has both a clear path to the third WR job and looks to be the most qualified.
2015 Outlook
Looking at the offensive history of the Saints on the Projection Machine, we can see what kind of season Toon could have as the third WR. Let's see what the WR3 has done in this offense over the last four seasons:
NO Targets 11-14
As you can see, the number three receiver has been targeted a decent amount in this offense. Keep in mind that this is with Graham holding down over 21 percent of the targets. Many of these will go to Cooks, Colston, and new starting tight end Josh Hill, but I think an uptick for the WR3 is also reasonable. I set him at 11 percent. I expect a little more of a run heavy offense this season, so I toned down both the pass and pace tendencies. Using Toon's 2014 season as a baseline, this is what the machine spit out:
WR Header
Toon 2015
Not a bad season for a player that is not even being drafted as a top 100 WR. This makes Toon a prime target in best ball formats like MFL10's, as he will probably have a couple of big games scattered within the year.
Conclusion
Toon is a player that nobody is talking about, but I will be heavily targeting this year late in drafts. He has a solid baseline for production playing with Brees in the Saints offense. He also has upside for more. Cooks couldn't make it through last season as a five foot eight, 189 pound rookie, and Colston will be 32 years old in a couple of days. If either of them were to miss time, Toon would stand to see a significant spike in both usage and production. He is the perfect example of a late round flier that could be worth so much more.