Denver Diamonds in the Rough: John Boyett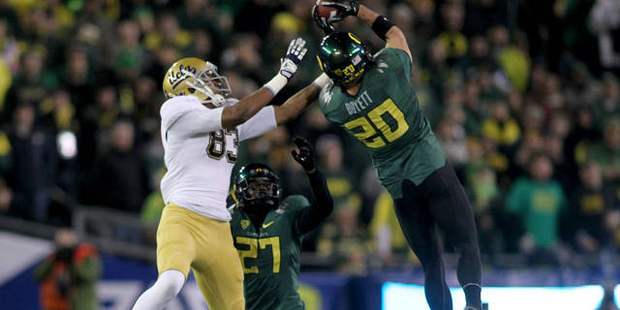 Team Journalist Lucas Polglaze spotlights free safety John Boyett in this week's Denver Diamonds in the Rough. Image Credit: goducks.com
Welcome to our newest series here at ThatsGoodBroncos.com, "Denver Diamonds In The Rough." It's a series that will spotlight young players, who might still be in development, but who have all of the tools to become stars in the NFL.
This week, we take a look at FS John Boyett.
Pre-College Years:
Boyett grew up in California, where he played his high school ball at Napa High School, where he was a first-team all-state dual-threat QB, FS and P. During his senior season, he notched 3,354 yards of total offense, 81 tackles, 3 sacks, 3 INTs and averaged 38.9 yards per punt. My question is, since he played three ways, was he ever taken off the field?
College:
Boyett was recruited and signed to Oregon, where he joined Chip Kelly's Ducks. In 2009, as a redshirt freshman, he started six games in place of injured FS (and now-Bronco) T.J. Ward. He racked up 90 tackles that season, earning first-team Freshman All-American honors, and never looked back.
He was a likely All-American in 2012 but missed most of the season after undergoing surgery to repair two partially torn patella tendons, having dealt with them for all of 2011. The injury along with concerns about his size caused his draft stock to slide to the 6th round in the 2013 NFL Draft, where he was selected by the Indianapolis Colts with the 192nd pick.
Indianapolis Colts:
Boyett was placed on the non-football injury list going into training camp but was ultimately waived after a run-in with the law. On September 2, 2013, Boyett was thrown out from a bar. He then reportedly told police officers, "You can't arrest me; I'm a Colts player." The drunk Boyett then made several physically threatening remarks to officers before being arrested. He was waived the following morning.
Denver Broncos:
When starting FS Rahim Moore went down injured in the closing weeks of the regular season, the Broncos turned to free agency to find additional safeties. They signed S Michael Huff (recently of the Ravens) to their active roster and Boyett to their practice squad. Boyett signed a futures deal to remain with the Broncos heading into training camp.
Boyett has not played a snap of gameday football since the Ducks' 57-34 victory over Arkansas State on September 1, 2012. Yet, I believe he figures firmly into the competition at FS. Rahim Moore's health may be improving, but I will wait for official confirmation first. David Bruton and Quinton Carter will probably be in the FS competition, but they have yet to really prove anything. Omar Bolden has shown me enough that I know I don't want him out there. In other words, Boyett has as much of a shot as anyone else.
The question is, what exactly does Boyett bring to the team?
Scouting Report:
Let me preface this by saying that I was high on Boyett coming out of the draft. The injury concerns pushed him down most draft boards, but this is definitely a guy who has second-round talent.
Boyett can play centerfield, cover 2, you name it. He is perfectly capable of being the last line of defense safety on the field. He has good play recognition skills and an extremely high football IQ. He almost always makes the right coverage reads and possesses a great click and close. He is a very sure tackler with good form. He plays physical and goes after the ball well, not afraid to separate the receiver form the ball with a shoulder…or a head. When a jump ball gets thrown up, he does a great job of high-pointing it and knocking it away. He comes in willingly against the run and doesn't shy away from contact. High-motor player.
He isn't often asked to man up on a receiver and play man coverage, and when he does, his hips are a little stiff. Boyett is also arguably too aggressive. His hits can be devastating, and at times borderline illegal. But he is an effective deterrent in the centerfield.
Boyett also suffers from what Jets Head Coach Rex Ryan has termed Caucasianitis – basically, slow white guy syndrome. He does not possess elite top-end speed, running a 4.57 40 yard dash at his Pro Day. He also checks in at just 5'10" and 203 lbs, putting him on the small side of the DB spectrum.
Boyett is an aggressive, enforcer-type mentality FS, even with ball skills – he had 10 INTs in his college career. He is the kind of safety you don't want to meet in a dark alley at night. Although his size and slow-end speed are issues, he benched 27 reps at the 2013 combine, second among DBs (behind Sharmarko Thomas' 28). He is a strong, intelligent, aggressive centerfielding free safety – just what the Broncos need to roam behind T.J. Ward. Don't write Boyett off the roster – he might end up starting alongside his fellow Duck for this squad.
Make sure to stay tuned to Pro Football Spot for further installments of Denver Diamonds In the Rough!