Cleveland Browns' Billy Winn doesn't have all the answers, but his coaches, fans help in locating them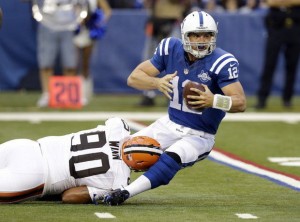 (Associated Press)
Browns defensive end Billy Winn, noted for his quickness and agility, tackles Indianapolis Colts quarterback Andrew in a preseason game last week
BEREA, Ohio – Billy Winn doesn't require a computerized personal assistant on a cell phone to get his questions answered.
Who needs Siri when you have the power of Browns Nation at your fingertips?
As he adjusts to life in Cleveland, the second-year defensive end hasn't been shy about asking area Twitter followers for advice on navigating the city. Where can he find a good barber or dog park? How about a place to buy Horchata (cinnamon rice milk) for his girlfriend?
"I usually get responses within 30 seconds," said Winn, who makes his offseason home here. "Who knows better than people who live here? They have been great."
A year ago, Browns fans probably had questions about the skateboard-riding, Mohawk-rocking sixth-round draft pick from Boise State.
Who is Billy Winn? He might be the franchise's most productive reserve player.
The versatile defensive lineman looks to build on a solid rookie season that saw him record 19 tackles, recover two fumbles and intercept a pass. Winn is big, agile and reliable — an important member of the Browns' deepest unit that includes second-year reserves John Hughes and Ishmaa'ily Kitchen.
"I thought he did a great job last year, coming out of nowhere as a sixth-round pick," said Joe Thomas, a six-time Pro Bowl left tackle. "He was one of our best-performing interior linemen.
"I've seen him make a really big jump from last season like a lot of guys do between their first and second season. He's fast, he's strong, he's got good balance and hands. When you have that combination you can be a really good player."
The 6-foot-4, 295-pounder probably could start on some NFL teams, but works as a rotational player behind big-ticket free-agent acquisition Desmond Bryant and Ahtyba Rubin in Ray Horton's 3-4 base defense.
The club's new coaching staff was only too happy to inherit the depth and flexibility Winn supplies. He was drafted as a tackle in a 4-3 scheme but, recognizing his athleticism, the previous regime also used him at end as the season unfurled. He made 10 starts in part due to injuries to Phil Taylor and Rubin.
The ailments of others also have kept him busy this preseason as he started the last two exhibition games in place of Bryant, who's been hampered by back spasms throughout training camp.
"He fits right in with the demeanor and the way that the defensive line plays," coach Rob Chudzinski said. "He's a high-energy player. I think he's really improved from a technique standpoint . . . He's gotten a lot more reps and that has helped him. I'm looking forward to his continued progress."
Instead of returning to his native Las Vegas, where his father is a chef at the Golden Nugget Hotel & Casino, Winn and his girlfriend remained in Cleveland. He trained at a local gym and exercised the couple's boxer-bloodhound mix, Tyson, at dog-friendly parks recommended by some of his 7,800-plus Twitter followers.
Winn increased his power-lifting workouts, but really focused on his flexibility.
"In studying my clips and notes, I knew it was something I needed to get better at," Winn said. "A lot of what we do is tight angles and tight fit and being able to bend to get around the corner."
He's a big believer in yoga and Pilates.
"I think it's so beneficial," Winn added. "It helps you bend more, it helps you with your core, which controls every one of your movements. It's a great thing to do."
A season after a showing a penchant for playmaking, Winn enjoys the attacking, multifront defense employed by Horton. Asked about his playing time on a crowded defensive front, he said he serves at the pleasure of his coaches.
"That's all up to them as to where and when I play," Winn said.
Now, if you want to know who makes a mean Horchata in Cleveland, he'll have that answer for you in 30 seconds or less.