49ers Rookie LaMichael James Looks Like 'The Truth'
Though he hasn't yet mastered the playbook, James has impressed teammates and coaches with football smarts and talent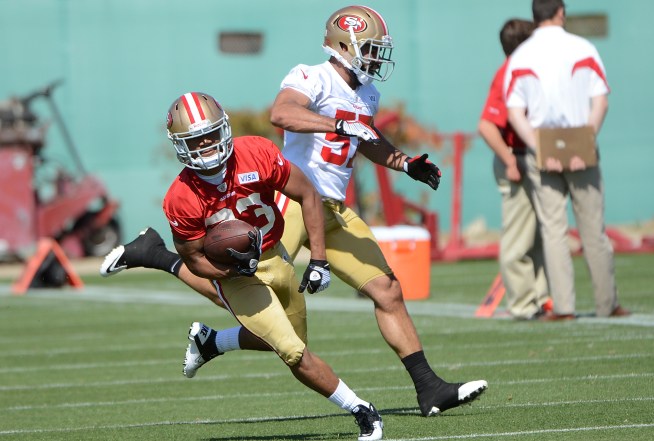 Rookie running back LaMichael James is still learning the 49ers playbook, but has been impressive nonetheless.
It's no surprise that LaMichael James is talented.
The 49ers' second-round pick from Oregon — who rushed for more than 5,000 yards and was a Heisman Trophy candidate – is no hidden jewel from a small school that never got any attention.
At Oregon, James was a star on one of the nation's most explosive teams. He's quick, fast, dynamic and versatile.
But now that the 49ers are seeing what the 5-foot-9, 195-pound rookie can do up close and personal, they're impressed nonetheless.
He's even better live than in high-def.
"I always watched him in college and now that he's here, I've had the opportunity to really see what he can do," fullback Rock Cartwright told Eric Branch of the San Francisco Chronicle. "He's special. He's a special back. He's the truth."
James has left a favorable impression on teammates and coaches despite the fact he has so far gotten limited reps with the first team while he crams to learn the playbook, which he admits has been a difficult homework assignment. He calls the 49ers' playbook "totally different" from what he knew at Oregon, where the Ducks ran a spread system at a no-huddle tempo. Even huddling after plays is a new experience for James in 49ers camp.
"The first thing for me is to get the offense down pat," James told Branch. He said several teammates, especially backup quarterback Colin Kaepernick, Cartwright and running back Frank Gore have been helping him learn.
It's likely that James could be used in a variety of roles this season with San Francisco, as a backup for Gore, as a third-down specialist, a receiver and kick and punt returner.
Offensive coordinator Greg Roman told Branch that the 49ers won't hesitate to use James as a backup to Gore at any time — and not just on third downs.
"He's a tough, in-between the tackles runner in college, and now it's a matter of just him adapting to that in the pros," said Roman, who added it's a "misconception" that "just because a guy's not a big guy he can't run inside."
James says he's noticed one thing in his short tenure as a professional: the game is quicker.
"Everybody's faster, so I have to get going really fast," he told the Santa Rosa Press Democrat. "I had to change my stance a little bit. You can't hesitate. … Every second counts here in the NFL and everybody's trying to get a step ahead."
In a sense, however, the game is slower between plays. Instead of the hurry-up, no-huddle tempo, he's learning a new rhythm: play, huddle, play.
"Just being in the huddle – that's slow to me because I've never been in a huddle," he told the Press Democrat. "At Oregon we ran plays back-to-back, back-to-back. I never, ever ran a play and got in a huddle. I had to adjust."
When the 49ers drafted James in April, head coach Jim Harbaugh – who coached against James when Harbaugh was at Stanford – was effusive in his praise of the former Ducks star, even comparing him to Ravens standout running back Ray Rice for his toughness and durability.
When asked what he liked about James, Harbaugh said: "Change of direction, speed, play-making ability, durability, number of carries, number of yards, number of touchdowns."
A pretty good list.
If James is "the truth," as Cartwright says, No. 23 should be fun to watch, beginning with Game 1 of the exhibition season Friday, Aug. 10 vs. the Vikings.